Say goodbye to soggy sandwiches and melted ice! it is the ultimate outdoor cooler because instead of using ice, it cools food and drinks using the power of the Sun.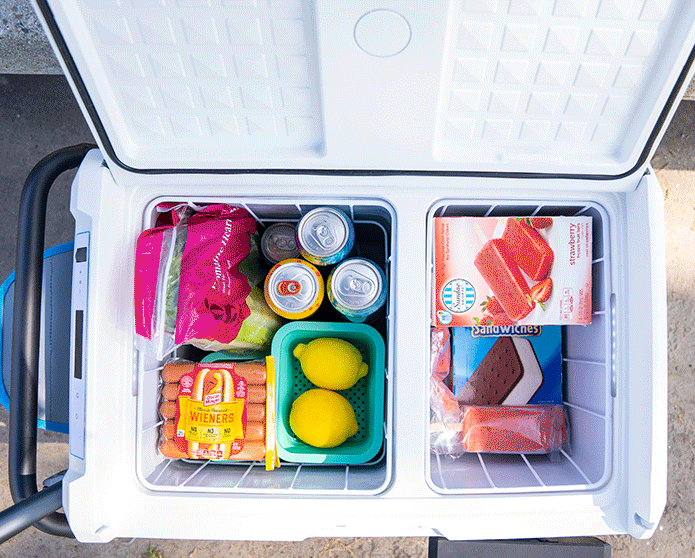 The 45 Liter cooler prepares you for any outdoor event with a built-in battery and all-terrain wheels plus thoughtful extras like inside lighting, tie down straps and organization baskets. It also has a built-in compressor that lets you set the temperature right where you want it with a range from -4°F to 68°F (-20°C to 20°C).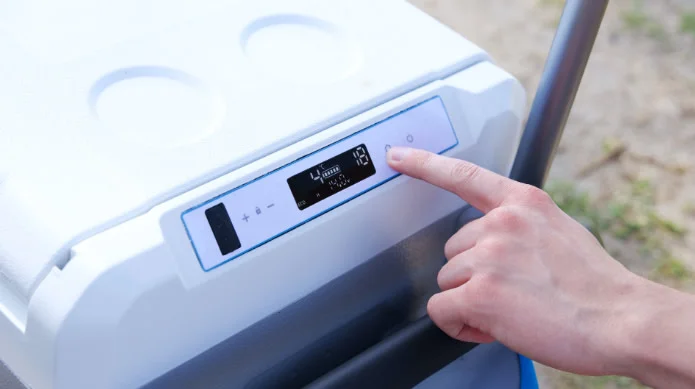 Without ice, you can use 100% of the cooler's volume. it has nearly double the room for food and drinks when compared with coolers of equal dimensions!

Cool and freeze anything you want for hours without using ANY ICE. it doesn't just chill your food and drinks, it keeps them frozen! Can you please grab the ice cream??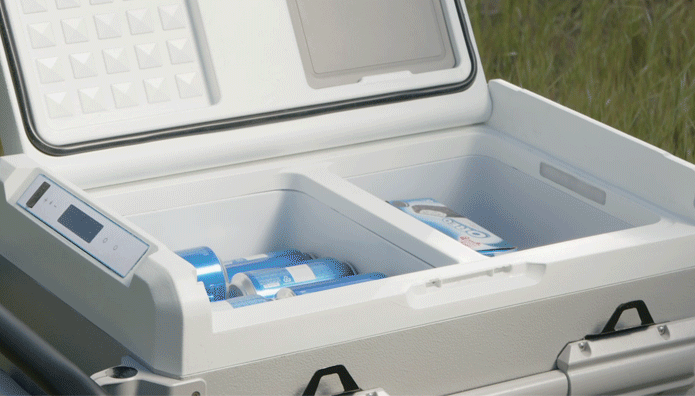 The dual cooling zones mean you have a freezer and fridge in the same device. You can set the temperature for each side anywhere from -4°F to 68°F (-20°C to 20°C) using the included App and touch buttons. You'll enjoy the coldest beer in camp and frozen ice cream ready for dessert.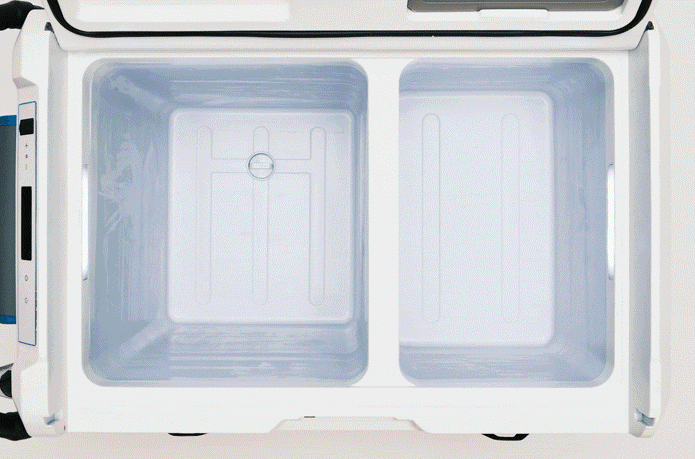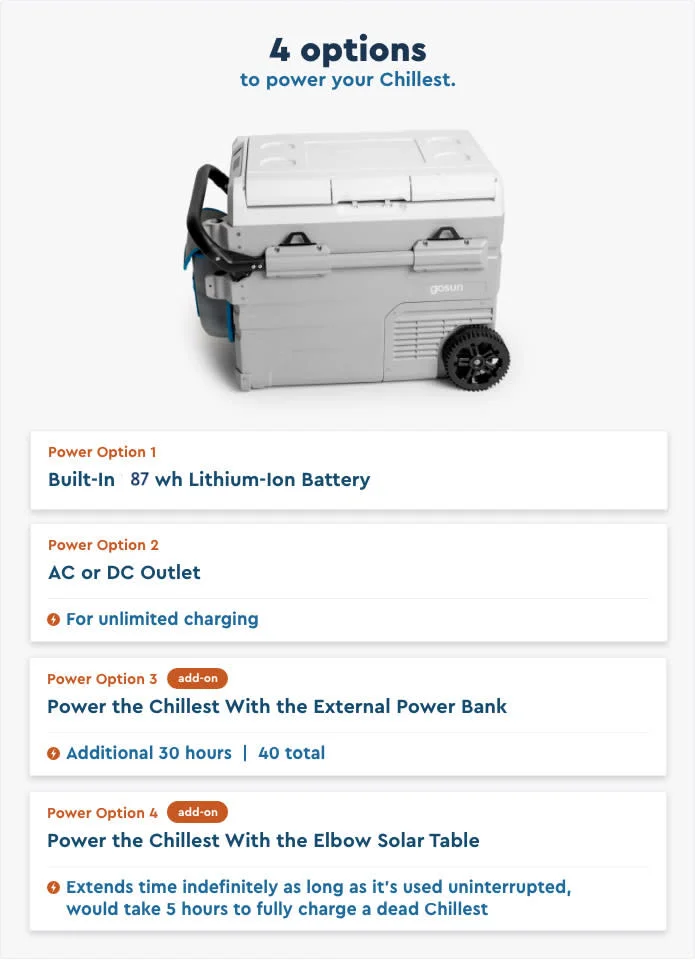 When it comes to powering your Chillest, you have 4 options: its built-in battery, an external power bank, AC or DC and Solar. This way, you can access the most convenient power source whether you're barbequing in your backyard or deep in the woods.
10 hours of power for one day packed with fun. Charge it up the night before and it's ready for the beach, boat, tailgate and more!
Enjoy unlimited power for your chillest when you plug it into an AC or DC outlet. Our all-electric, brushless DC compressor uses a third of the energy of typical thermo-electric coolers, making it an ideal refrigeration solution for your car, boat, camper van, RV or tiny house.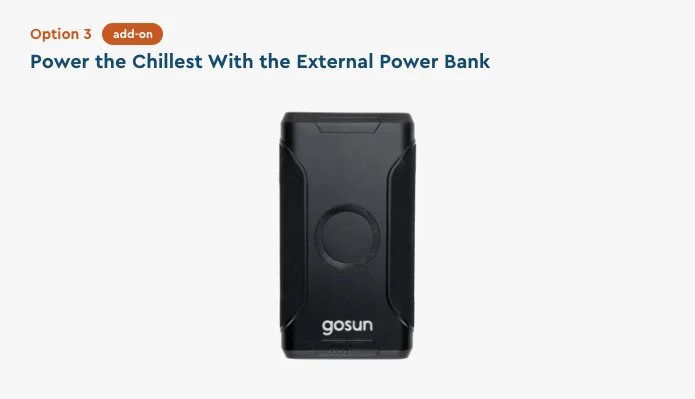 Our Power 266 portable power bank gives your Chillest 30 additional hours of power with one full charge keeping your cooler cool for 40+ hours when combined with the Chillest's built-in battery.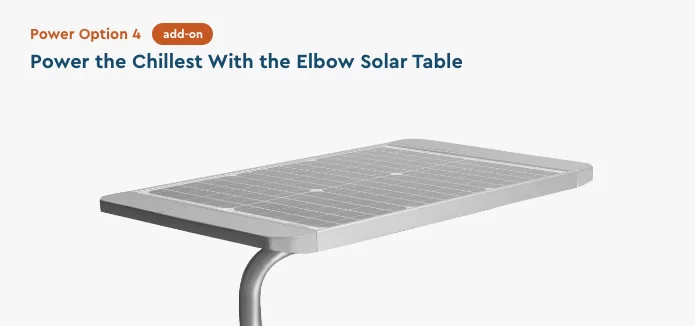 Solar gives you extended refrigeration for your long adventures. Attach the GoSun Elbow Solar Table right to your Chillest for a usable surface to play cards, serve food, or use it as a desk, all while powering your cooler!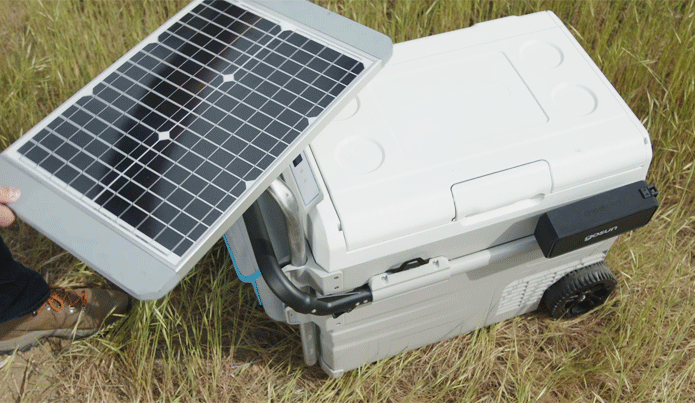 The  Chillest comes with a mount so you can attach the 20 watt solar table directly to the cooler.
We've had enough with ice, so we reinvented the cooler to do what it was designed to do—keep your food and drinks cool without the hassle and mess, and let you make the most of your outdoor fun.
it's literally a refrigerator and freezer on wheels. It gets so cold you can actually make your own ice, and ice-free cooling means all your snacks stay dry and organized.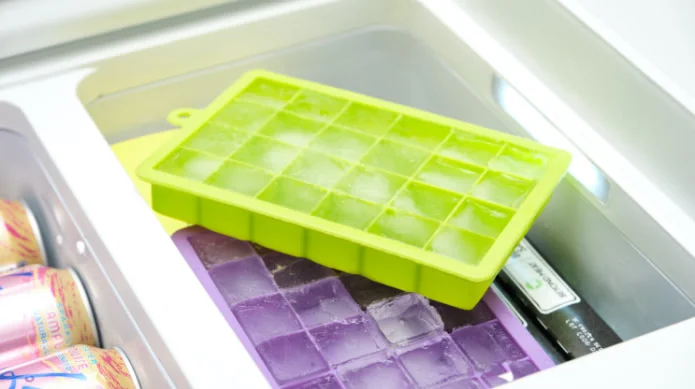 There are other portable fridges out there, but they're built for staying inside a vehicle.We builds portable products that power themselves with the Sun, or plug into household AC, 12V and power banks so you can stay outside longer.
Using solar and energy transfer technology, it  uses one third the energy of traditional portable fridges. The Chillest applies an all-electric brushless DC compressor instead of the more commonly used thermo-electric coolers – which are terribly inefficient.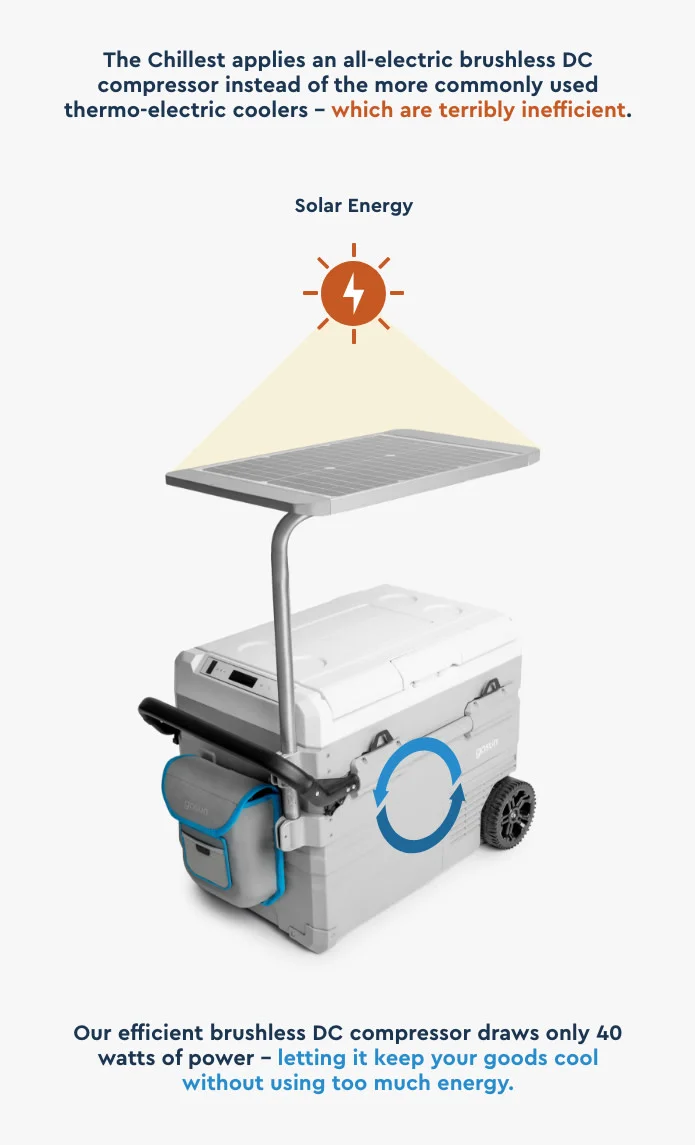 Our efficient brushless DC compressor draws only 45 watts of power – letting it keep your goods cool without using too much energy.it is also completely quiet, fully controllable and very durable.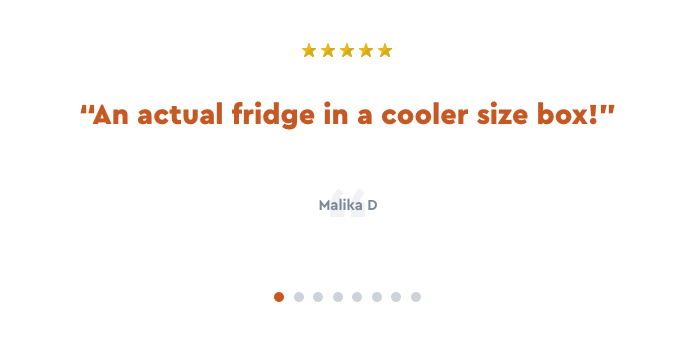 Integrated side handles and a dry weight of 42 LBS (19kg) make it easy to load the Chillest into the car. The telescopic handle makes pulling it along possible, even for kids!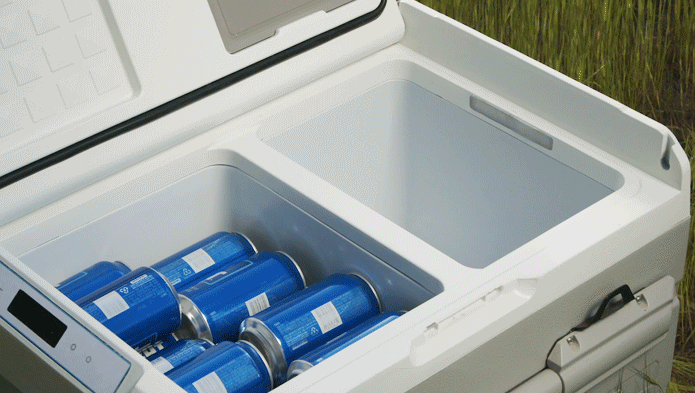 Your Chillest comes with two organizing baskets so you can pack it full but still find items on the bottom without unloading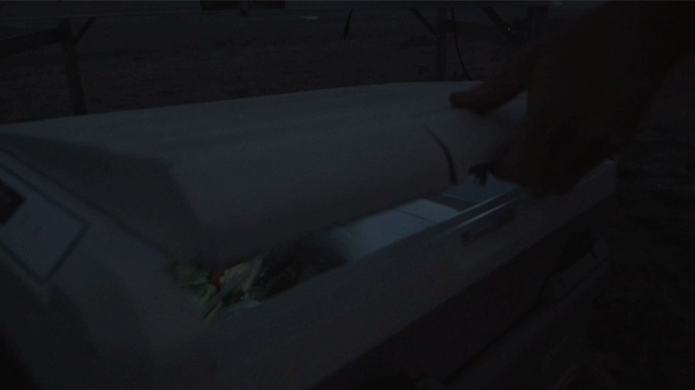 The Chillest has inside lighting so you can find exactly what you're looking for at night or during a power outage.
Prep your meal on the  Chillest cutting board that lives inside the cooler lid. When you need to use it, it pops out and docks onto the top of the lid.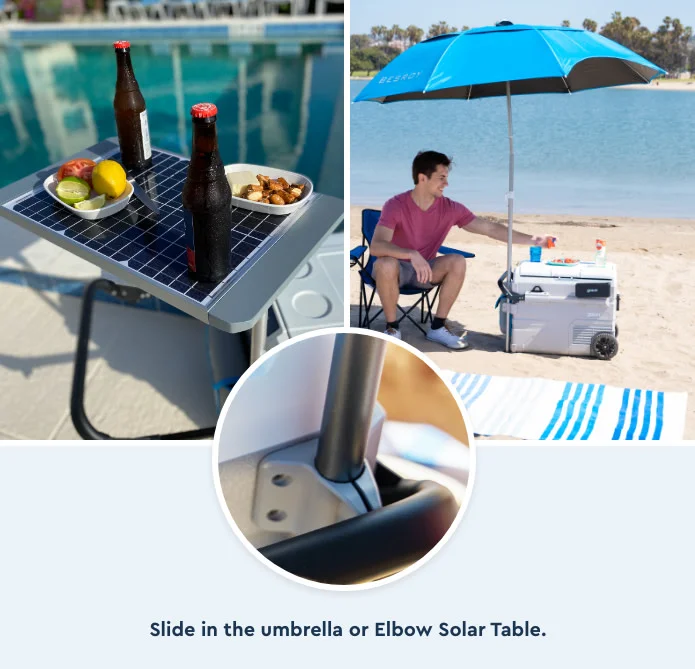 it comes equipped with a mount where you can slide in the umbrella or Elbow Solar Table, making it a complete relaxation or food prep station.
Keep chilling in your hammock, tent or by the grill—you can control the Chillest's temperature settings right from your phone with the complementary App!
Nothing enhances time outside like some tunes! Our optional bluetooth speaker kicks out amazing sound while connecting to your smartphone from up to 50 feet away!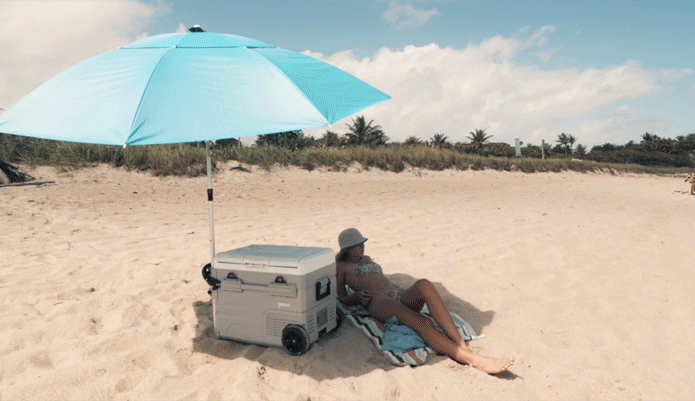 Create an oasis of chill with the Slide-In Sun Umbrella that attaches right to your Chillest or comes with a sand anchor so you can park it at the beach.⛱️

The outdoors is where we go to reset and reconnect. Feel the grass under your feet, jump in the water or play your favorite sport—we could all use more quality time in nature and that's the core reason we built it.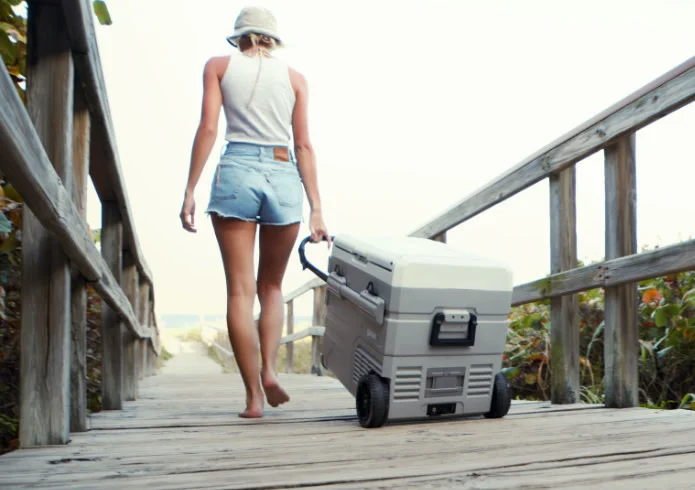 Anytime you spend more than three hours outside, you need refreshments at a minimum, but who has time to go buy ice for their grimy old cooler? It starts melting immediately!
it inspires you to get outdoors more by giving you a hassle-free way to bring all your drinks, snacks and outdoor necessities. And when you're all done? There's virtually no cleanup with this cooler. Remove what you didn't use and charge the battery so you can do it all over again tomorrow.
Rain or shine, it gives you the ultimate portable fridge to enjoy the outdoors more.